If you are in the need for some discounted plants, now is the time to take advantage of what the stores have to offer. I was at my local Walmart store this week and they had 6 pack annuals discounted down because they were starting to not look the best, but with a little TLC at home they can spring back to life and provide months of beautiful enjoyment.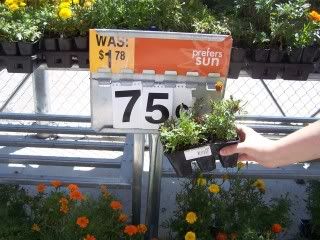 From the picture above you can see that they discounted the plants drastically, so I took full of advantage of that and picked up 2 packs (1 Marigold and 1 Impatiens)
To nurse these plants back to health, you will need the following supplies:
-Potting soil
-Plants
-Miracle grow or some type of plant food
-Planter
-Small rocks, pebbles or shards of broken clay pots for drainage in the planters
-Newspaper
-Small hand shovel and an old table knife
-Watering can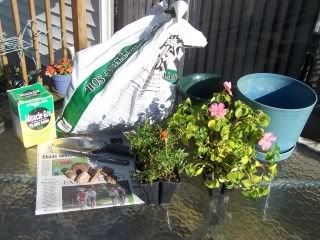 How to nurse your plants back to health:
1. The first thing you always want to make sure you do is use clean, disinfected planters. As you can see from the picture I am using two different types of planters to show you how to use the small rocks. In the green planter there is already an existing drainage system, but the blue planter doesn't have much for drainage at the bottom so this is were you will want to put your rocks.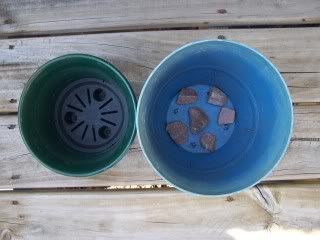 2. You now want to dehead any dead flower blossoms, pinch off any leaves that are either yellow, bug bitten, spotted or have turned brown. By doing this it will help the plant revive itself plus it will get rid of any possible diseased areas.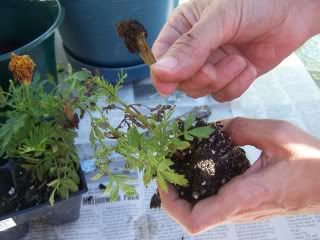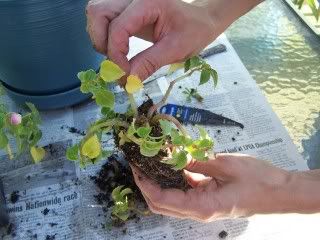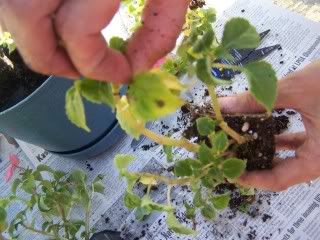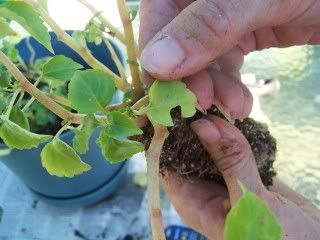 3. The next thing to do is take notice of the rootball at the end of your plant, if the roots are entangled and no soil will dislodge from it when squeezed then you have a root bound plant. Before you start transplanting you will want to break up that dense mat of roots. To do this you can score all around the rootball with a scissors or a knife. Or what I do is just use my fingers and pull the roots apart. This may seem harsh, but it does wonders for the plant, by doing it, the plant is able to restart itself.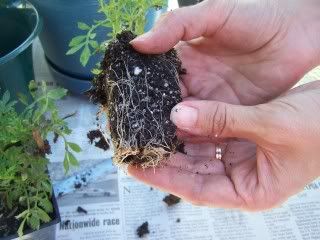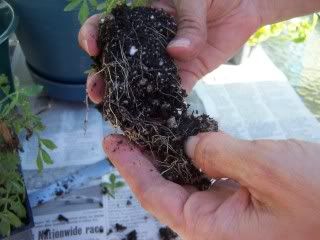 4. When you have all of the above steps done, now you can add potting soil to your planters and put your plants in.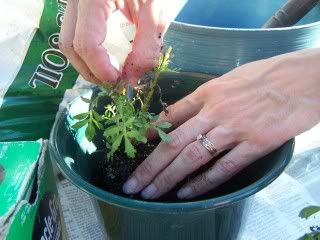 5. Finally to help nurse the plants back to health, I use a little bit of Miracle Grow in some water and make sure to give the newly replanted plants a healthy drink.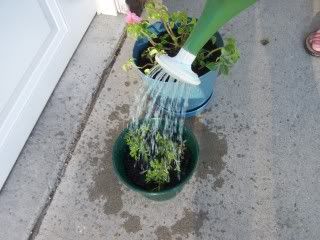 Cost Breakdown:
2 - 6 pack annuals $0.75 each
Potting soil 40 lb. bag - $1.50 ( I have used this for around 12 planters and still have some left)
Miracle grow - I have had this for a few years, but around $4.00
Hand tools, watering can, planters - I reuse each year
As you can tell the cost is very low to nurse discounted plants back to health.
I also like the fact that with Marigolds, they are heat tolerant, attract butterflies, help ward off mosquitoes and they bloom nonstop until the last hard freeze of the season, so that means you have flowers for the Fall to enjoy.
With the Impatiens, they prefer part sun, but are very low maintenance, are great to add to shady areas of your yard and you are able to bring them inside your house before it gets really cold and still enjoy the beauty of their flowers along with the fact that you can hold them over Winter and set them back outside next Spring.