My husband and I are being cavemen for Halloween this year. After I made our costumes, which took less than 1/2 an hour, I used the scraps from mine to whip one up for my 3 year old. Then I made her a little bone hair band to match! The whole thing took just a few minutes and was so easy.
Excuse my very grumpy model.
The fabric was Ultra Cuddle, but I used Fleece for my husband's costume. There were a couple different animal print options in fleece. Patterned fleece is $12.99/yard at
Jo-Ann
, but is on sale for 50% off this week! It is 58" long, so if you have a skinny kid like mine, you could easily use half a yard (18"). That's just over $3 of fabric. The felt I used for the hairband is 29 cents/sheet. This costume was free for me, though, since I used scraps!
I started with a length of fabric about 15 inches wide and 48 inches long. I folded it width wise (so 15x24 inches). Then I sewed along both sides - leave a space for the armhole on one side! Next, I cut a diagonal neckline and a jagged bottom. That's it!
Here is a pattern I tried to make that shows what I did.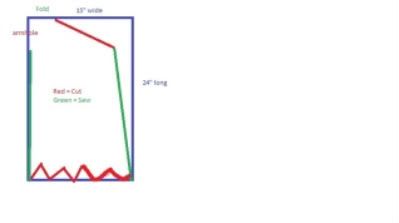 To make the bone hairband, I cut a bone shape out of felt. Then I sewed a little square of felt on the back of it. I made it wide enough to wrap around the band.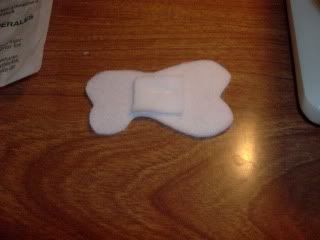 Then I wrapped it around the band and sewed it. The whole thing took 2 minutes.