I posted a load of pics and some more text on my blog
here
, so I'm not going to bother repeating it all. But... here is the apron knot dress that I made for my friend's little girl.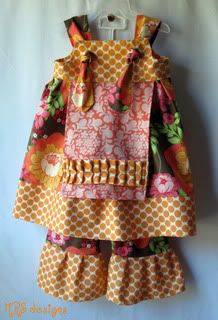 It's my first project that I used my serger for, and I just have to say, after thinking it over, I do believe that the serger was a big reason this entire project was completed in just under 4 hrs! I didn't have to worry about hemming or French seaming or zig-zagging, and then attaching it all afterwards, making sure the joined seams are finished... just run it thru the serger, and it's done! So, I'm quite pleased with my new toy!
And, from the inside, this could almost be store-bought!