Have you been wondering what I did with all the cute little
felt flowers
I showed you how to make? Here it is!
I made 6 mini witch hats to wear on a headband, clip, or bobby pinned into your hair. I saw one at a boutique for $12! I already had the felt, ribbon, and stuffing, so I got all 6 hats for 70 cents, which is how much I spent on tulle. Even if you have to buy the supplies, you can make a hat for about $1.
Jo-ann
sells felt in sheets for 19 cents and 1 sheet is enough for a hat.
To make your own mini witch hat, you need a small amount of black felt, polyfill stuffing, and something to decorate your hat with (ribbon, tulle, flowers, plastic spiders or skulls, fake spider webs etc)
Cut out these pattern pieces from the black felt.
If you want a ribbon trim, sew that on before making the cone. On one of them, I sewed sparkly tulle to cover the entire cone and it turned out really cute.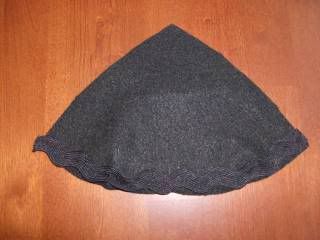 Fold the triangle in half, right sides together, and sew down the long side. Sew the little rectangle onto the bottom of the circle. This is to hold the hat onto a headband. The one in the picture has two, for bobby pins.
Turn the cone right side out and stuff with polyfill. Pin it to the top of the circle. Because you're using felt, you don't need to turn the end under. Just sew over the edge at the bottom of the cone. I used a narrow zigzag to help me catch a good amount of cone in the seam,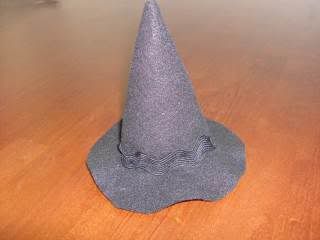 Decorate as desired! Some of mine are left plain. I'm giving them as gifts to some DIY friends who don't sew but can use a glue gun to decorate!
I handstitched flowers to some, added more ribbon, and of course the tulle. My sister saw a mini witch hat with a veil and wanted one. I just stitched the end of a piece of tule onto the hat, then gathered it a bit, stitched over the gathers, and repeated. I just did whatever looked good.