**Disclaimer**
MS Mom of the Week is a fun way for us to get to know the Mommysavers members. Newbies to the board as well as regulars are welcome to participate. The Mom of the Week is randomly selected a week in advance of her being featured. I do this so I can contact you, let you know your feature date, and arrange to receive a picture from you to include with the survey. Having a picture included is so we can make it a little more personal and put a name to a face. This is optional of course, as are all the questions being asked. If I don't hear back from you before your "feature" date, I will randomly select the next person and then get back to you the following week. If you would like to participate please
PM Christy_K_
and we will get you signed up.
Let's get started!!!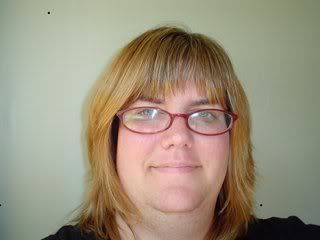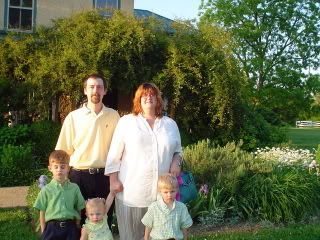 What is your first name?
-Jami
What are your kids' names?
-Nicholas,Jake & Caroline
Were you ready for motherhood?
-Very much so, I'm a mother hen!
Have you ever met someone who has completely inspired
you to be a better person? Can you tell us about that
relationship and how it has affected you?
-I would have to say my kids. When my oldest was born
and I really realized that a tiny little being needed
me to be the best I can be. I felt he deserved a
loving, caring, moral, upstanding mother. I changed
some bad habits and was on the road to a better me.
Do you have any nervous habits? What are they?
-Well, I eat when upset or board, that's a hard one to
control for me.
Did you ever date a guy your parents did not like?
Were they right about him?
-Yes, my folks weren't crazy about one guy and were
glad when we split. They were not happy when we got
back together either, but they were wrong and came to
see that. And good thing as he's been their
Son-in-Law for 10 years now, Today they love him like
a son, thank goodness.
What do you want your kids to remember the most about
you?
-That I was always there for them, that I went to
every game, assembly, etc. And that I love them
unconditionally.
What did you learn the most from your mother?
-How to be mom! She's great and was a wonderful
example, I'm able to maintain cool in crazy situations
because of her.
How many coupons do you use on a regular basis? What
is your best money saving tip?
-I use coupons all the time, but came to learn that
there's no point in clipping what I won't use. I try
to never pay retail for anything, if I buy it (other
than a few staples sometimes) it was on sale.
How did you find Mommysavers? Have you referred anyone
here? Were you referred here?
-To be honest I don't quite remember, but I think I
found it on an internet search looking for mom sites
and became addicted. I talk about it to family and
friends, but non have signed up to my knowledge.
Out of all the things the members here have offered in
terms of advice, support, counsel and criticism, what
have you personally benefited from? And do you
remember specifically who the member was that offered
that advice?
-I don't remember who all responded, but the ladies
were so supportive when my dog passed away last year.
I had a hard time dealing with it and everyone was so
loving about their responses. I've taken lots of tips
and info from here and uses it in my everyday life, to
many to name, really.
Have you ever met a mommysaver?
-Yes, I was lucky enough to meet my Big Sister last
fall. It turned out she grew up 10 minutes down the
road from me and her parents still live here. She was
visiting and we went to lunch. She has been a
wonderful friend I would never have known without
Mommysavers!
What is the most romantic thing your dh ever did for
you?
-Probably the way he proposed, he did it without
words! It sound weird, but I was presented with a
ring in a box and the sweetest look ever, we both feel
to the floor crying and laughing at the same time.
It's a very cherished memory.
Tell us five things you like about yourself.
-I like that I am a loving and supportive wife, I am a
good mom, I like my eyes, I like that I am a strong
woman and I like that I am a good cook and baker (I
guess that I am a nurturer & a nourisher by nature)
What hobby do you enjoy the most? What got you started
on it? How would you rate yourself? Can you show us a
picture of your proudest piece of work?
- I love reading and cross stitching. I'm pretty good
at it, but have no pictures of my work (I need to
start photographing everything I do, as I tend to give
them away as gifts)
How many frogs did you kiss before you found Mr.
Right? Was he worth the wait?
-I actually met my husband at 16 and only dated a
handful of other guys. Granted I didn't have to wait
long, but he was worth it!
What is your favorite genre of music? Who is your
favorite group? Have you ever seen them in concert?
-I love lots of different types of music, but my
favorites are British Folk and Scandinavian Folk Metal
right now, my favorites are Leaves Eyes and
Blackmore's Night. No I haven't seen mt favorites in
concert, I haven't seen live music in over 6 years!
List three things you have on your Life List; things
you would like to accomplish before you leave this
world
- I want to see Scandinavia and Iceland, I want to see
my kids settled and happy in their grown up life, and
I would love to see my 50th Anniversary!
Which room in your house best reflects your
personality?
-I guess it would be my kitchen!
What do you see your children growing up to be like?
What career path would they choose?
-Wow, that's a tough one! My oldest wants to be a
baseball player, a golfer or an artist. The younger
two, I'm not sure sure about yet, they are only 21
months and 3 right now.
Is there something we would never guess about you?
Some kind or quirk you have no one close to you knows
about. (C'mon tell us!!!!)
-I can't really think of anything, I tend to be a
little disorganized, but most people know my lifelong
struggles with that.
Are there words you live by? What are they?
-I try my best to treat everyone they way I would like
to be treated and try to remember that my kids do
everything like I do, I try to set good examples.