[IMG]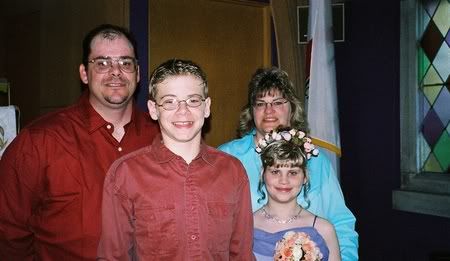 [/IMG]
**Disclaimer**
MS Mom of the Week is a fun way for us to get to know the Mommysavers members. Newbies to the board as well as regulars are welcome to participate. The Mom of the Week is randomly selected a week in advance of her being featured. I do this so I can contact you, let you know your feature date, and arrange to receive a picture from you to include with the survey. Having a picture included is so we can make it a little more personal and put a name to a face. This is optional of course, as are all the questions being asked. If I don't hear back from you before your "feature†date, I will randomly select the next person and then get back to you the following week. If you would like to participate please
PM Christy_K_
and we will get you signed up.
What is your first name?
Tanya
What are your kids' names?
Drew ( 15) and Rachel (11)
Were you ready for motherhood?
Yes, i had lots of baby cousins and couldn't wait to have kids, got pregnant 4 mths into our marriage.

Have you ever met someone who has completely inspired you to be a better person? Can you tell us about that relationship and how it has affected you?
I would have to say my Grandma Arlene, though she was not my biological Grandmother (she was my father's stepmother) she was more of an influence and stable figure in my life from my birth until her death (Jan.30th, 2004). She was the strongest, kindest and most giving woman i have ever known.She never said a bad word about anyone, had a smile on her face all the time.I had never seen her angry. She was creative and frugal and made the simplest tasks fun. When she was dying of pancreatic cancer i went to visit her, i will never forget her saying " dying is so hard", so now whenever i am having a bad day i think of those words and it pushes me to keep going because i know that is what she would have done. I miss her, but i have wonderful memories of her!
Do you have any nervous habits? What are they?
I chew my fingernails, those poor little nubs. Good thing that those fake press on nails do not have any flavor to them, i could eat a whole box of them on a nerve-racking day!
Did you ever date a guy your parents did not like? Were they right about him?
Yes a few. One guy was 7yrs older than me and in college and very into his looks, my dad wasn't worried because he thought the guy was gay(trust me he wasn't!) and my mom thought he was only 3 yrs older than me.

What do you want your kids to remember the most about you?
That i was a fun mom, but that i also stood up for them when they needed me too.That they could confide in me when something was troubling them.
What did you learn the most from your mother?
I guess i learned how to not do some of the things she did when i was growing up. My mom was a workaholic and not there for me much. So i try to be there more for my kids and have fun time once in awhile. She did teach me how to shop the bargains and that name brand is not always best.
How many coupons do you use on a regular basis? What is your best money saving tip?
I rarely use coupons anymore, i was alot better at it when the kids were smaller and i had no computer ( i was really bored back then, had plenty of free time! lol) My best money saving tip?----stay out of the mall, stick to the shopping list and don't browse too much.
How did you find Mommysavers? Have you referred anyone here? Were you referred here?
It was sometime in 2002 we had just gotten our first computer and i remember reading Woman's Day magazine and finding an article about Mommysavers, i read the articles and didn't know what a forum was......so i clicked on it, figured out how to post and reply and been hooked since! I have not referred anyone here because it's my little sanctuary and i don't wanna share! Plus it's harder to complain about a friend or neighbor if they are on the same board.lol
Out of all the things the members here have offered in terms of advice, support, counsel and criticism, what have you personally benefited from? And do you remember specifically who the member was that offered that advice?
That's a hard one to answer without leaving anyone out. So many of you gals have given me great advice or just a shoulder to cry on when things at home are not going so well. Then there are those who can make me laugh, Crazykelly, Ember, Starlite can usually crack me up with some of their responses. Happymom, Claire, Jodie, Hawkshoe, Ann_B,Cindy,Penelope,Christy, Margieboznboys you have all known me forever it seems. Hawkshoe and Aliadam i can always count on for straighforward honest opinions. I am getting to know more people now, bucsnpats and a few of the other mods, it's fun getting to know you. I hope i didn't leave anyone out?
Have you ever met a mommysaver?
No but i would LOVE too!
What is the most romantic thing your dh ever did for you?
Oh gosh, he's the most unromantic man i know, so i guess i would have to say flowers after i gave birth to our first born, though im positive my mother told him to do it, he would never think of that on his own!
Tell us five things you like about yourself.
I like my eyes, my lips, my sense of humor,my artistic/creative side and my ability to type fast.
What hobby do you enjoy the most? What got you started on it? How would you rate yourself? Can you show us a picture of your proudest piece of work?
I love to paint, decorative painting or faux painting around the house. My dad used to paint with acrylics when i was little,he did alot of landscape portraits and i would sit and watch him, he would give me tips sometimes. I paint those little plaster Christmas village houses and love doing them.
[IMG]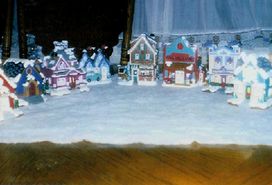 [/IMG]
How many frogs did you kiss before you found Mr. Right? Was he worth the wait?
A few, not really sure that i am still with Mr. Right or not, so i guess i'm still kissing a bullfrog?
What is your favorite genre of music? Who is your favorite group? Have you ever seen them in concert?
I like a big variety of music, country, rock, heavy metal, even classical. I love the 80's big hair bands-Poison, Cinderella, Motley Crue,etc. Country groups- Big &Rich, Montgomery Gentry, Rascall Flats, The Dixie Chicks. I have not seen any "real" concerts,like in stadiums, but did see a few country acts at the County Fair ( Little Texas, Aaron Tippin, Trace Adkins(he's one big hunk of a man!), Shenandoah(they split up already), I missed Montgomery Gentry because of a family reunion out of state......I wanted to see them so bad, i heard they gave an awesome show!!
List three things you have on your Life List; things you would like to accomplish before you leave this world
:
Watch my kids get an education or skill and become independant adults, see the mountains of Montana, stay at a dude ranch out west somewhere and join a cattle drive.
Which room in your house best reflects your personality?
My living room, it's decorated in old west style. Faux finish on the walls, horse and cowboy items everywhere, big leather sofa. It's country and cozy and warm.
What do you see your children growing up to be like? What career path would they choose?
I could see Drew being a high school gym teacher or coach or maybe into auto repair,painting or detailing. Rachel- she's the one i worry about the most. She struggles so much in school but has the kindest heart and compassion for others, i could see her working with small children in some way or working with animals.
Is there something we would never guess about you? Some kind or quirk you have no one close to you knows about. (C'mon tell us!!!!)
Well my dh knows this and laughs at me everytime.........I cannot stand the noise that balloons make when they pop,i flinch when i know it's coming. My relatives have been known to chase me thru the house during kid's parties, running behind me the whole time with a balloon and a needle! I can't even open one of those refrigerated biscuit tubes without flinching........i literally hold the thing as far away from me as possible and cringe when i twist it to break the seal, i know the pop is coming but i jump every single time! Can you just get a visual of me doing the nervous dance and holding this tube at arms length? lol
Are there words you live by? What are they?
Laugh often-it's the best medicine. Live everyday like it's your last, because it could be.