**Disclaimer**
MS Mom of the Week is a fun way for us to get to know the Mommysavers members. Newbies to the board as well as regulars are welcome to participate. The Mom of the Week is randomly selected a week in advance of her being featured. I do this so I can contact you, let you know your feature date, and arrange to receive a picture from you to include with the survey. Having a picture included is so we can make it a little more personal and put a name to a face. This is optional of course, as are all the questions being asked. If I don't hear back from you before your "feature" date, I will randomly select the next person and then get back to you the following week. If you would like to participate please
PM doozer
and we will get you signed up
What is your first name?
Sonja
What are your kids' names?
Ashlynn-7, Brooklyn-3 and Kaylin-2
Were you ready for motherhood?
Yes and no. We were not trying, ummm not even married but I always knew that I wanted to be a mother.
Have you ever met someone who has completely inspired you to be a better person? Can you tell us about that relationship and how it has affected you?
There are so many. And some on this board as well. Everyone I meet inspires me in a different way.
Do you have any nervous habits? What are they?
I am an over eater. I tend to eat while stressed and nervous. I am learning that if I need to eat to pop a stick of gum in my mouth.
Did you ever date a guy your parents did not like? Were they right about him?
Yes. And yes they were right.
What do you want your kids to remember the most about you?
That as much as I yell and tell them what to do I still love them and always will.

What did you learn the most from your mother?
To love everyone no matter who they are. Diversity is the way of the future.
How many coupons do you use on a regular basis?
15-20 a month
What is your best money saving tip?
Plan your meals and only shop for what is on your list. That way you are not overstocking and then not wasting it.
How did you find Mommysavers? I was searching for Coupon Trains Have you referred anyone here?
Yes, she does not frequent the site though Were you referred here? No
Out of all the things the members here have offered in terms of advice, support, counsel and criticism, what have you personally benefited from?
Learning how to plan meals and make from scratch
And do you remember specifically who the member was that offered that advice?
Everyone has such great advice. I love listening to everyones view point good and bad. That is what helps me.
Have you ever met a mommysaver?
Yes! I have met bucsnpats, happymom and kellynkay. All at the same time. We even went shopping together…….frugally!

What is the most romantic thing your dh ever did for you?
I have a love of office supplies and now scrapbook supplies. Well a few years ago he came home with a desktop pencil holder and he had made an "office bouquet" out of the office supplies. It was so cute and creative!
Tell us five things you like about yourself.
(she only listed THREE....ah hem!!)
My hair
My creativeness
My need to help others first
What hobby do you enjoy the most? What got you started on it? How would you rate yourself? Can you show us a picture of your proudest piece of work?
I absolutely love scrapbooking. My latest is a album I made with envelopes here: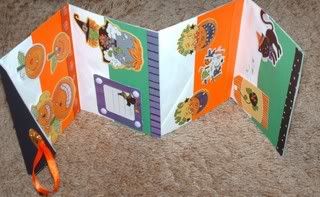 And one of my oldest daughter:
How many frogs did you kiss before you found Mr. Right? Was he worth the wait?
Ummm too many. Yes worth he was worth it.
What is your favorite genre of music? Who is your favorite group? Have you ever seen them in concert?
I love Alternative Rock. My current favorite is Modest Mouse. No but I have seen many other bands that I love like New Found Glory and The Killers.
List three things you have on your Life List; things you would like to accomplish before you leave this world
To see my grandchildren
Travel to Europe
Buy a House
Which room in your house best reflects your personality?
My craft room. I can really reflect my personality through my work. And I can leave it a little messy.
What do you see your children growing up to be like? What career path would they choose?
Ashlynn is going to be some sort of an Executive Business Women
Brooklyn is going to be a Mommy
Kaylin is going to be a Skydiver LOL
Is there something we would never guess about you? Some kind or quirk you have no one close to you knows about. (C'mon tell us!!!!)
Yes I have 4 baby teeth still. I know weird but I don't have any under them to push them out!
Are there words you live by? What are they?
Live Well. Laugh Often. Love Much. It sums up everything