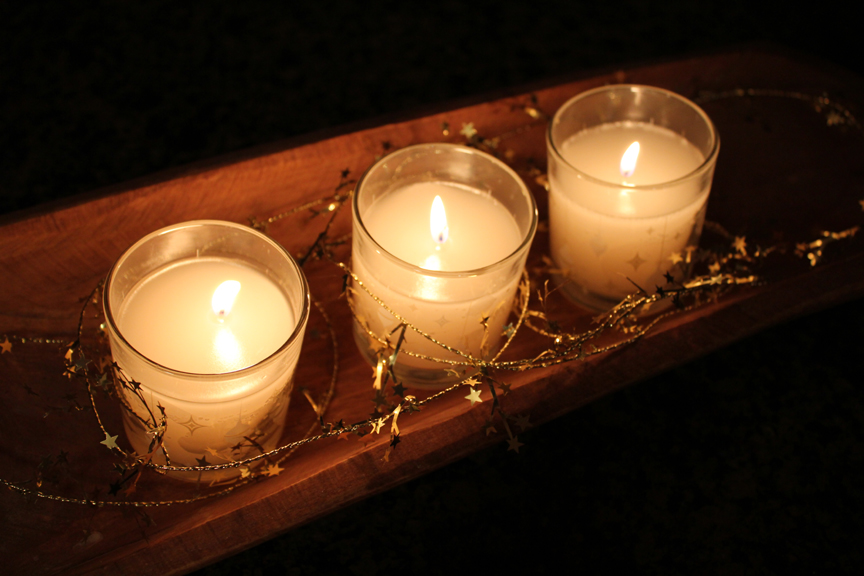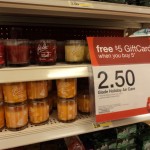 Right now the Glad Holiday Scented candles are on sale for $2.50 each at Target.   Plus, when you buy five you'll get a $5.00 gift card.  Pair that with this $1.00/2 printable coupon (print twice) and you'll get five candles for just  $1.10 each after coupon and gift card savings.
Target/Glade Deal Scenario:
Buy Five Jar Candles $12.50
Coupon Savings – $2.00
Gift Card Savings – $5.00
Like getting five candles for $5.50, or just $1.10 each!
The Target Gift Card offer is valid through 12/25, but the coupons may not be available that long; so print them now.  Plus, Glade is also running a Facebook campaign from now until December 13th.  They'll be issuing hot new printable coupons depending on how many "likes" they receive.   Head on over to the Glade Facebook Page to check it out.
When you have multiple candles, they look great grouped in odd-numbered groups on a plate, tray, or charger.  I added a little bit of holiday tinsel for glittery effect.  Not bad for under $5!  Plus, they smell great.