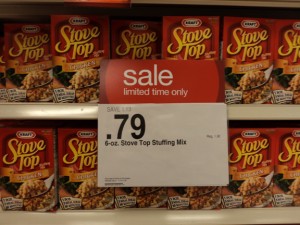 We gave you the heads-up on this deal back on November 7th, but here's another reminder.  Not only are boxes of Stove Top Stuffing just $.79 per box, there is a tear-off coupon pad on the Target end cap that has a buy four, get one free coupon on it (see below).  I thought this deal may only be available in my Target store, but member deemom also reported seeing the Stove Top Stuffing Coupon at her Target store.   With the coupon, you'll be able to stock up on Stove Top Stuffing for just $.62 per box.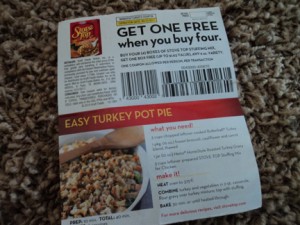 Scenario #1:
4 boxes x $.79 = $3.16
+ Get one box Stove Top Stuffing FREE w/coupon
= 5 boxes for $.62/ea.
Scenario #2:
Or, you can print off a Stove Top Stuffing coupon on the Target Website valid for $.50/2 boxes.  Even better!  That brings the cost of two boxes of Stove Top down to just
2 boxes x $.79 = $1.58
+ Save $.50/2 boxes Stove Top Stuffing with Target coupon
= 2 boxes for $.54/ea.