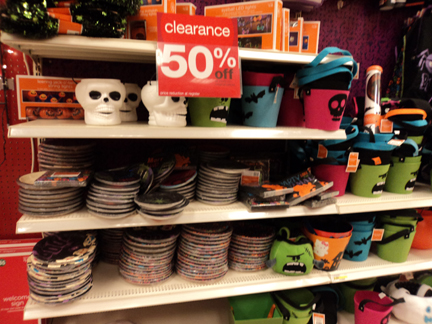 Today was the big day, when Target's Halloween department got put on clearance at 50% off (candy is at 30%).  I brought my camera and took photos of many of the deals that remain at my Mankato, MN store:  costumes, decor, napkins, place mats, trick-or-treat bags, and much more.  Your store may vary, but most Target stores follow the same holiday markdown schedule we describe in the next paragraph.
Target holiday markdowns usually follow a 3-3-2 schedule (this came from our discussion forum).  Clearance merchandise goes to 50% off the day after the holiday, then 3 days later 75%.  Bagged candy starts at 30% then goes to 50% and 75%.  Again, 3 days after that what's left is 90% off.  2 days after that it goes to salvage (Goodwill).   If that holds true for Halloween 2010, Nov. 1st = 50% off, Nov. 4th = 75% off, and Nov. 7th = 90% off.
UPDATE:  In the past year, Target has changed their markdown schedule to 70% rather than 75%.  We expect the 2012 Target Halloween Holiday Clearance Markdown Schedule to look like this:  Nov. 1st = 50% off, Nov. 4th = 70% off, and Nov. 7th = 90% off.  The bagged candy exception holds true.  For Target Clearance updates visit our most recently posted Target Deals or read our article Hitting the Bullseye:  How to Find the Best Deals at Target.